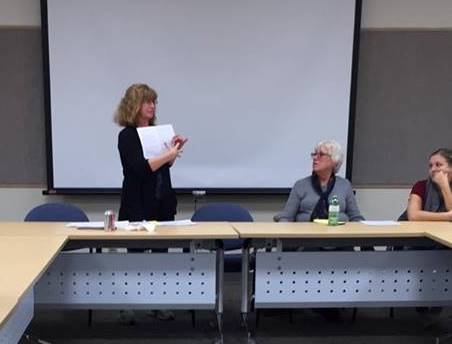 Recap by Callie Amo:
On October 14, 2018, local Ottawa historical/erotica romance bestselling author Sharon Page came to our group to discuss her five secrets to revising a work-in-progress (WIP). She has given her workshop before to ORWA, but it has become so popular that we had her give it again! Her workshop was very helpful and she mentioned several other authors that have given advice on revisions and helped us.
Her points can apply to either writing for a traditional publishing book or a self- published one, as she is a hybrid author. We were very happy to hear from her, and many people joined us as guests, some far away from Montreal!
She started with informative thoughts about how to start, such as looking at the big picture. She gave examples of her rough drafts from her current WIP to help us understand the points she suggested. She also told us about her experiences with revision letters from her editor, and how some vary in the amount of revisions she had to do. She also made jokes, such as using wine as a great tool to help get through the rough stuff, like rewrites.
Her first secret was to avoid revisions by doing things to improve your writing, such as making outlines, using critique and beta readers, and letting the work sit for a bit. Her second secret was looking at the missing parts of the big picture stuff, such as plot, conflict, and characters. She was very helpful in giving us a checklist of the "big picture" and "smaller picture" plot aspects in a manuscript. Her third secret was tweaking the little things such as tone, flow and conflict. Her last secrets were her tips on tackling the revisions such as the common manuscript problems and keeping the faith in yourself, which were the big things of gaining a ready to publish manuscript.
Now, grab her notes if you'd attended, and attack that WIP sitting around.
About Sharon
New York Times and USA Today Bestselling author Sharon Page sold her first romance in 2004. Since then, she has published more than 30 novels and novellas, both traditionally through NY publishers (Kensington, Random House, Harlequin), and on her own through indie publishing.
Sharon's books have won many awards including two RT Book Reviews Reviewers Choice Awards, three National Readers' Choice Awards, the Colorado Award of Excellence, and the Golden Quill. Sharon was nominated by RT Book Reviews in 2013 for Career Achievement in Erotic Romance.
Event details
Sunday October 14, 2018 (2:30 to 4:30pm)
Location: Nepean Centrepointe Library: 101 Centrepointe Dr, Ottawa, ON K2G 5K7 (Room 1A)
Free for members | $20 for guests (to help pay for the venue rental)
Reserve your spot on our Eventbrite page or by emailing [email protected]
You can also join our Facebook Event Page to get Facebook reminders.
In consideration for those who have allergies and asthma, please refrain from wearing scented products at our workshops and meetings.