Recap of March 2019 by Jennifer Carole Lewis
Shirley Jump's full day workshop on Show Not Tell and Scene and Sequel got ORWA and our guests buzzing and our keyboards clacking.  Both were full of great practical tips on how to deepen our descriptions and create faster-paced scenes to hold a reader's attention.  She shared her thoughts behind making sure that every word makes the maximum impact: readers give authors hours of their lives, so we need to make sure it's worth it.
For Show Not Tell, she gave us seven specific things to look for in our manuscripts, such as using the words look or feel, or large blocks of text containing explanations or backstory.  Then she provided eight techniques to make our scenes more active and engaging, including how to vary sentence structure to avoid visual boredom and how to choose specific, unusual details that evoke emotional reactions from the reader.
In Scene and Sequel, she went through the basics of plot structure and corrected some common misconceptions about plot, namely that tension is not the same as conflict and that plot needs to be more than events happening to the characters.  She went through a series of questions to help maximize the tension for your characters, starting with what is your character's deepest emotional fear?  She also explained how every scene needs a sequel, where the point of view character reacts to what happened in the scene.
In the end, the most poignant piece of advice was that "characters are what create story."  Characters are who readers fall in love with, root for and think of.
We're looking forward to continuing our momentum in April with Stefanie London's workshop about finding our unique voices. 
About Shirley Jump
When she's not writing books, New York Times and USA Today bestselling author Shirley Jump competes in triathlons, mostly because all that training lets her justify mid-day naps and a second slice of chocolate cake. She's published more than 60 books in 24 languages, although she's too geographically challenged to find any of those countries on a map. Visit her website at www.ShirleyJump.com for author news and a booklist, and follow her on Facebook at www.Facebook.com/shirleyjump.author for giveaways and deep discussions about important things like chocolate and shoes.
Event details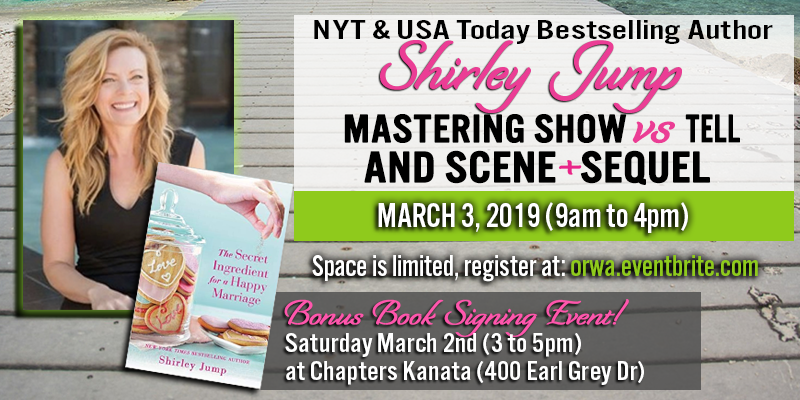 Sunday March 3, 2019 (9am to 4:30pm)
New temporary location:
Algonquin College (1385 Woodroffe Ave)
Room T119
Building T is down College Ave off Woodroffe, across from the Ryan Farm Park.
Parking is a flat $5 fee on the weekend, for lots 8, 9, 10 and 12
Algonquin is a smoke-free campus

ORWA member tickets: Free (must have up-to-date paid ORWA and RWA memberships)
RWA member tickets: $40 (must have up-to-date paid RWA membership)
Non-member early bird tickets: $50 (before Jan 1)
Non-member regular tickets: $65 tickets
Reserve your spot on our Eventbrite page or by emailing [email protected]
You can also join our Facebook Event Page to get Facebook reminders.
In consideration for those who have allergies and asthma, please refrain from wearing scented products at our workshops and meetings.