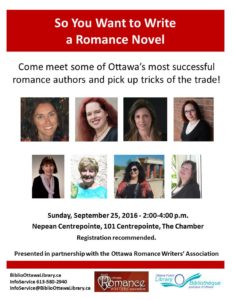 Have you always wanted to write a romance novel and don't know where to start? Are you already working on becoming the next Nora Roberts? Or maybe you've already got a manuscript ready and now it's time to learn more about the industry?
This meeting, organized by members of the Ottawa Romance Writers Association, is your chance to come out and meet other writers just like you, plus some of Ottawa's most successful romance writers. Here, you'll connect with other romance writers, learn how to get started writing your first manuscript and find out about local resources you can take advantage of.
Date: September 25, 2016
Location: Ben Franklin Place, 101 Centerpointe Drive, The Chamber (large auditorium to the left as you walk in the library doors)
Time: 2:00 PM – 4:00 PM
This is a free event open to the public, hosted in conjunction with the Ottawa Public Library.